There have been
visitors to my homepage since 8/13/98...
---
So, I have my own homepage, now. And you have come to see it. What are you bored?? Just kidding, thanks for stopping by! On the net, I'm known as Dawntreader, so feel free to call me "Dawn" on the net or IRL. I've grown rather used to it.
I've been netting for about three years, and I remember when I would log in to ONE talker ONLY. So, if you are ever at MuMuland, and meet "Dragon", blame him for everything :) MuMuLand is my net.home and where I'm usually hanging out while I'm on the net. It's a great place to meet some wonderful people. Most of us wouldn't bite you (hard, anyways...hehe). And, if you see me there, type .tell dawntreader hi :) or just drop me a line of S-Mail!!.
Now, on to the rest of my homepage. To start off with, I'm about 5'3" (which is rather short!), with blonde hair and weird eyes that defy color definition. Imagine murky swamp water, and you will have it about right.
Until a year and a half ago, I lived in the beautiful state of Colorado, which is where I spent the majority of my life. But, after I turned 24 (Remember January 15th.. I'll be waiting for presents!!), I decided to head out and see what life would bring me. And I had met someone... on the internet of course!
So, I moved to Maryland, after visiting only twice. Of course there are other reasons I'm here, but it's mainly due to my love of three years, Whitedragon. From net to irl...don't let anyone tell you it never works. Follow your heart.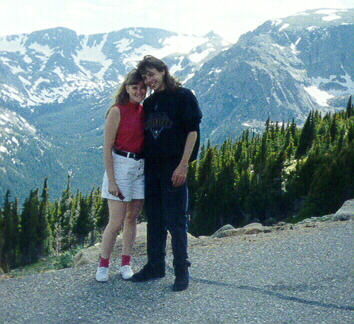 Pictured here is the two of us in Rocky Mountain National Park the week we moved my stuff to Maryland. I miss Colorado, but I like it here.
---


Okay, I should warn you, I have quite eclectic tastes in music, from Broadway to Depeche Mode, 80's pop. Even Classical, Baroque, New Age, and most anything else you can think of. (except country.. sorry) There should be something here to interest you!
| | | |
| --- | --- | --- |
| | I also have a passion for anything Disney... so for you Disney lovers, especially Winnie the Pooh lovers like me, check these links out. | |
Well, they say the best way to judge a person is by the friends they hang out with... here's a list of those nearest and dearest to me, with links to their homepages where available.
| | |
| --- | --- |
| | Speaking of friends, some of my friends are involved with a non-profit theatre group. If you've never heard of "techno-giving" or you would like to help out (ALL FREE--I assure you!) click on the EyeGive logo. |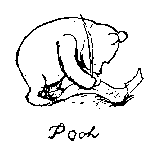 For right now, that is all I can think of! If you think of something else, want to complain, or just say "hi", send me e-mail. I love e-mail :) Oh, and since you're here, why not sign my guestbook or just read it!